Requirements and Steps
To become a CPA, every person must meet the specific requirements for qualification, and go through the steps prescribed in the CPA Act. Please refer to the following chart that illustrates the process to become a CPA.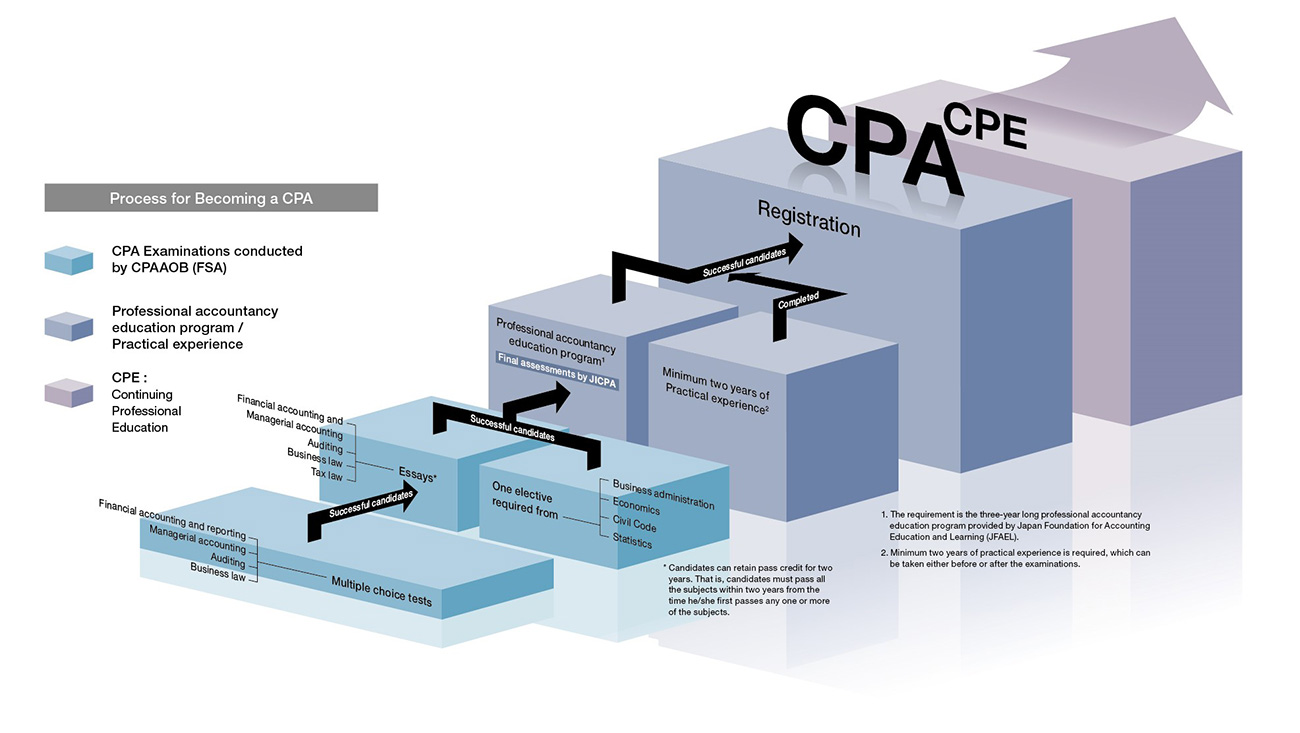 CPA Examination
The first and the most challenging step is to pass the CPA Examination conducted by the Certified Public Accountants and Auditing Oversight Board (CPAAOB) pursuant to the CPA Act. CPA Examination is comprised of multiple-choice tests (held twice a year) and essay tests (held once a year). Successful candidates of the multiple-choice tests are entitled to sit for the essay part of the examinations. For more details, please visit the CPAAOB website :
http://www.fsa.go.jp/cpaaob/english/index.html
Currently, no exemptions are allowed by the Financial Services Agency (FSA) for holders of foreign countries' CPA or Chartered Accountant (CA) qualifications or for those who have educated in overseas accounting programs.
JICPA membership is open to those who have CPA qualifications awarded by the FSA.
Q&A
Q1

Can I take the CPA Examination in English?

A1

CPA Examination is conducted only in Japanese. For more information about the examination, please visit CPAAOB

http://www.fsa.go.jp/cpaaob/(Japanese only)
Q2

I have a professional accountancy qualification from a foreign institute. Are there any exemptions for holders of foreign professional accountancy qualifications?

A2

No exemptions are permitted for foreign CPAs or CAs. For more information please visit CPAAOB

http://www.fsa.go.jp/cpaaob/(Japanese only)
Practical Experience
Candidates are required to gain relevant practical experience by working in accounting/audit firms or in industry for a minimum of two years. When candidates work in industry, their work experience need to be similar to those gained in accounting/audit firms. Candidates may obtain practical experience either before or after the CPA Examinations.
Professional Accountancy Education Program
Successful candidates of the CPA Examinations are required to complete the three-year long professional accountancy education program provided by Japan Foundation for Accounting Education and Learning. The curriculum is established by taking into consideration the requirements set out in the International Education Standards issued by the International Accounting Education Standards Board of the International Federation of Accountants.
Final Assessments
Those who completed the professional accountancy education program are qualified to take the final assessments in the following areas conducted annually by the JICPA.
Accounting
Auditing
Taxation
Business administration, including the theory of information technology
Rules, regulations and ethics related to CPA service
Registration with the JICPA
Those who passed the final assessments are eligible to register as members of the JICPA. This registration is mandated by the CPA Act, and is necessary for CPAs to represent themselves as such to the public. Registration as members of JICPA means they are registered to practice as active licensees.