The Interview with the New IAASB Chair Tom Seidenstein
July 19, 2019
On July 17, 2019, the New IAASB Chair, Tom Seidenstein visited the JICPA. The JICPA Chairman and President, Aiko Sekine interviewed with the new chair.
(Sekine)
First of all, congratulations on your new appointment as the chair of the IAASB. And thank you very much for taking the time in your busy schedule to interview you. You have just become the new chair on July 1, 2019. And it is our great honor to hear that this Tokyo visit is your first outreach activity as the IAASB chair. Could you please tell us about your current feeling as the new chair?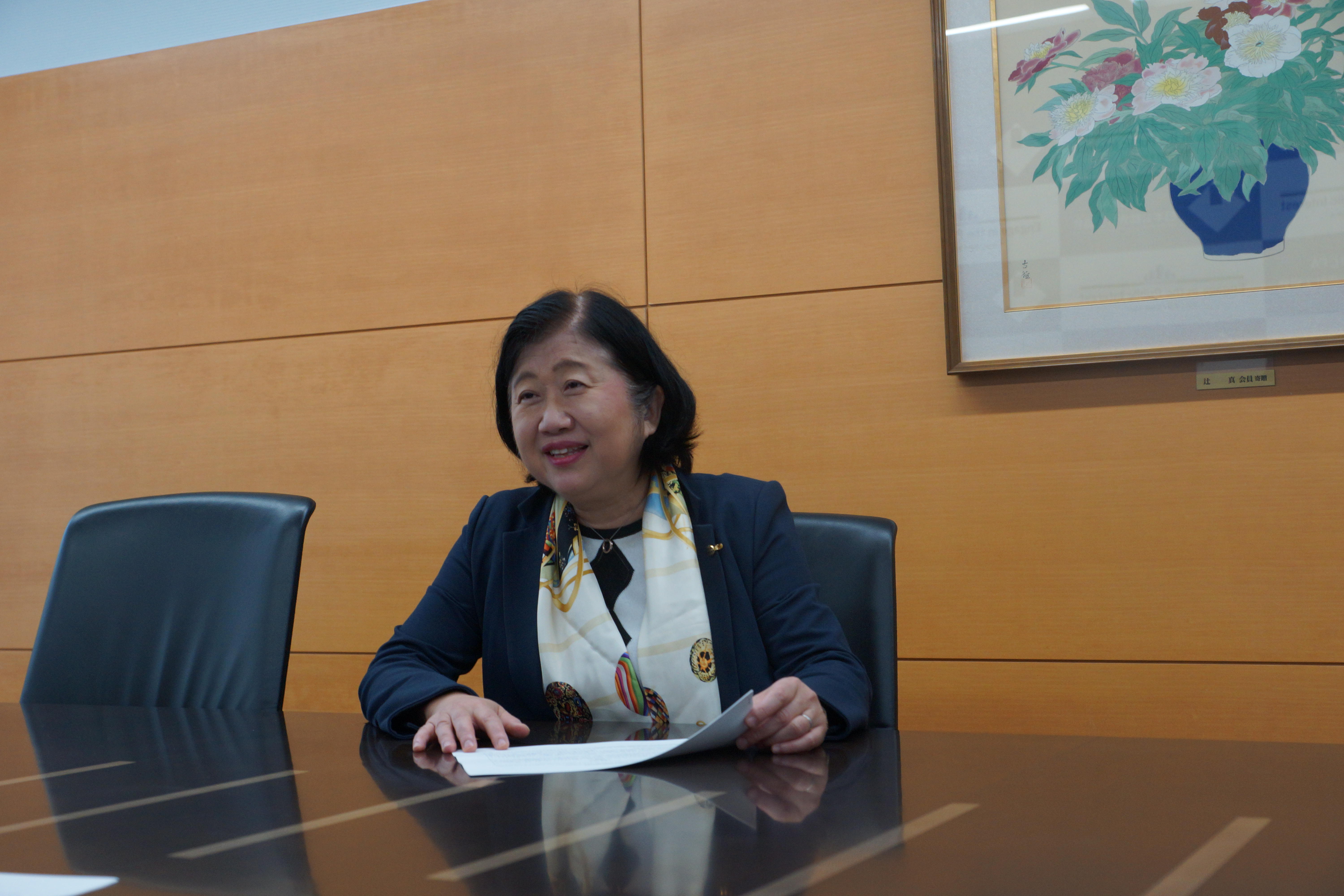 (Ms. Sekine)
(Seidenstein)
I am pleased that Tokyo is my first outreach trip as the new IAASB chair. In my role at the IFRS Foundation, I greatly appreciated my close working relationship with the Japanese regulatory, accounting, and business communities and am looking forward to renewing these relationships in my new role.
The JICPA, the Japanese Financial Services Agency, and Japan Securities Dealers Association, among others, have been actively engaged with the IAASB and our Consultative Advisory Group's (CAG) over the decades. The invaluable expertise contributed by Board member Sachiko Kai and her advisor Kohei Yoshimura, as well as FSA Observer Yoshinao Matsumoto, and CAG representative Kazuhiro Yoshii are examples of the strong, productive and strategic relationships that are particularly important to me.
Whether at the IFRS Foundation or Fannie Mae, I have always been attracted to organizations and roles that contribute positively to market effectiveness. The audit profession is embedded in the global financial system's architecture. The IAASB's work developing and maintaining high-quality standards consistent with the public interest is vital to ensuring confidence in the world economy. However, the IAASB cannot act alone. Our success depends on collaboration with our global stakeholders—and I'm looking forward to the dialogue with Japanese leaders.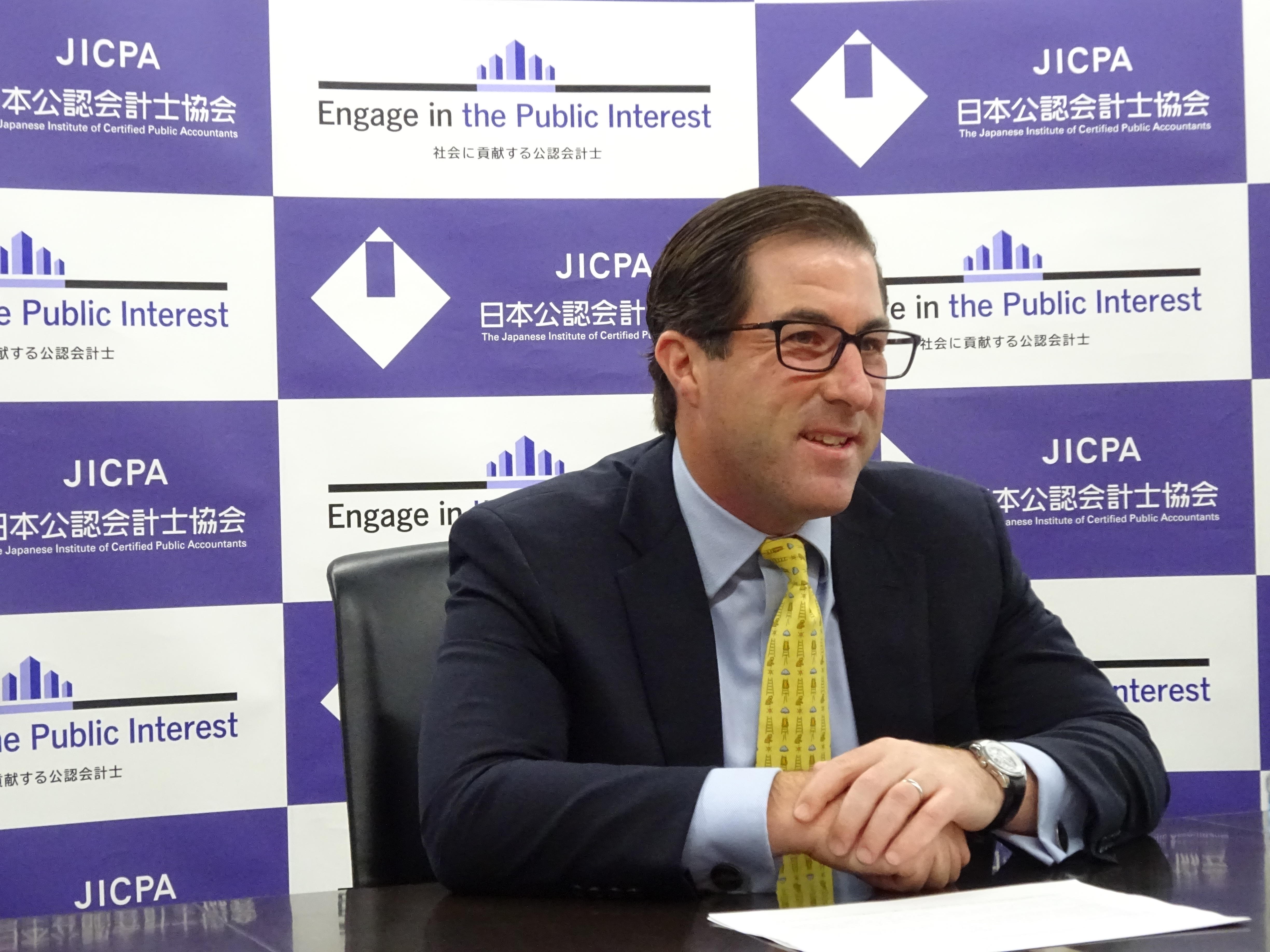 (Mr. Seidenstein)
(Sekine)
You worked for the IFRS Foundation since 2001 to 2011, and as the chief operating officer, led the organization's governance review and reform process. Before joining in the IAASB, you were senior vice president at Fannie Mae, and the trustee member of the International Valuation Standards Council. From your perspective as having such a great variety of knowledge and experience, what do you think about the situations that the audit procession is in right now?
(Seidenstein)
Like any profession in this age of disruption, the audit profession faces challenges. We must address advances in technology, increasing business and external reporting environment complexity, and how consumers of reported information frequently have different expectations. The IAASB is part of a large, diverse external reporting ecosystem that comprises many actors, including national standard-setters, regulators, oversight bodies, preparers of information, business leaders and their governance teams, audit firms, shareholders and investors. The IAASB actively supports this global ecosystem through its standard-setting mandate, helping to build and sustain public trust in external reporting and enhancing confidence in audit and assurance engagements.
I am a natural optimist and there are three key reasons to be very optimistic. First, there is widespread acceptance of the need for the IAASB's high-quality, global audit and assurance standards – that's a great foundation to build from. Second, dialogue between the accountancy profession, the standard-setting communities, and the regulatory, oversight and or inspection communities is intensifying which encourages more cohesive approaches. And third, the IAASB is considering its strategy in consultation with our global stakeholders. It gives us the opportunity to prioritize the key issues we must confront in the coming years.
(Sekine)
I understand that the IAASB is currently developing the next strategy for 2020 to 2023 and the work plan for 2020 to 2021. As the new chair, do you have specific goal(s) that you would like to achieve, and challenge(s) and/or theme(s) that you give great importance to in the next strategy?
(Seidenstein)
We are currently reviewing the comment letters in response to our strategy consultation, so I want to be careful not to prejudge that outcome. However, there are several key broad themes emerging that are consistent with my thinking. We must support the consistent implementation and application of our standards. We need to tackle pervasive public interest issues in a timely manner, including challenges around audits of less complex entities and increased demands related to non-financial reporting. We are keen to be responsive to new and changing needs, while always remaining mindful of the need to retain the robustness and quality of our standards. We must confront the impact of technology on our standards and its potential to augment the standard-setting process. There is an acknowledgment that regulators, oversight bodies, and standard-setters of all types at the national and international levels should forge even tighter working relationships. Finally, we should explore new and innovative ways to enhance the level of engagement and connectivity with our stakeholders.
(Sekine)
From my experience as an IESBA Board member and IFAC Nominating Committee member, I think consideration of broad range of views and perspectives is critical in international standard-setting process. I also think that this is why international standard-setting is very challenging process. Business environment is evolving and the entities' circumstances become more diverse, and the globalization of the audit is increasing. Therefore, I think hearing views from various stakeholders become more important for the IAASB. As the new IAASB chair, how do you plan to hear and respond to various views?
(Seidenstein)
I really thank you for service to the global accountancy profession – there's been greater effort to work with our peers at the IESBA but critical to all of the standard-setting bodies is the work of volunteers who give their time to keep the standards and the overall profession strong.
Regarding the importance of stakeholder consultation, I couldn't agree with you more. I'm passionate about the need to engage a broad and diverse range of stakeholders because, as a global standard-setter, we must constantly reinforce confidence in our work. Working transparently, in a manner consistent with due process, and in a way that captures the best thinking from around the world means I am committed to the IAASB's rigorous international outreach and public consultation program. The IAASB Consultative Advisory Group is an excellent forum—it fosters strong engagement with global regulators, business and international organizations, and users and preparers of financial statements and other forms of external reporting. I also believe that we can do more with technology and other collaboration tools, to innovate our public engagement.
(Sekine)
Finally, could you please give the readers of JICPA website your message, for example, your expectations for the CPA profession in Japan?
(Seidenstein)
I have enormous respect for the Japanese profession, which is has been consistently a thought-leader in some of the most challenging issues facing accountancy. The international standard-setting community is much richer for your participation. I ask for your continued engagement in our efforts and that you continue to hold yourself to high standards.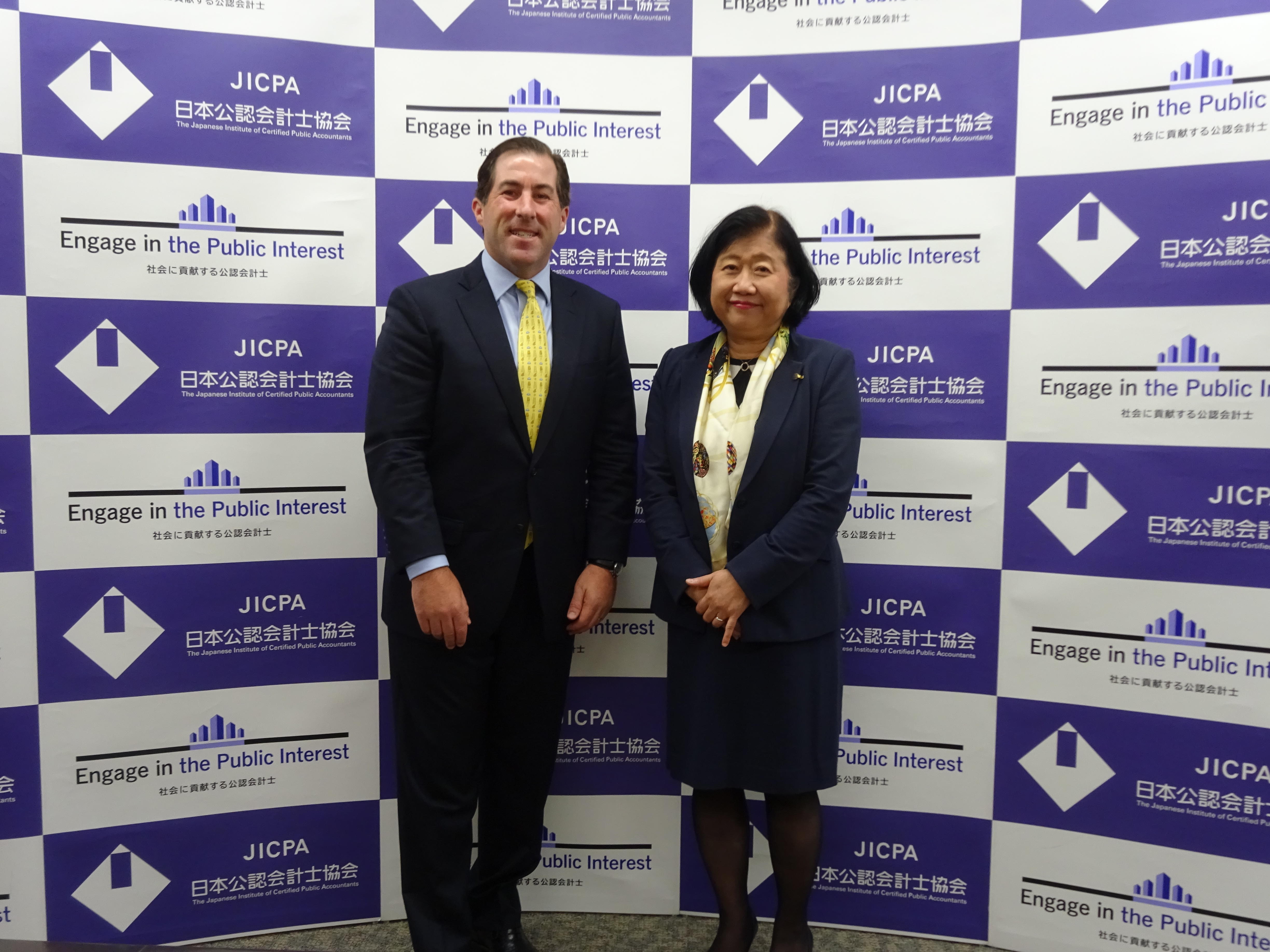 (Left: Mr. Seidenstein, Right: Ms. Sekine)